Upcoming Talk:
-------------
TBA
-------------
Past Talks:
Colloquium with Jordan Lachler and Darren Flavelle
Oct 17, 2023
An Evidence-Based Approach to Training for Language Revitalization
Please find the recording of the talk here.
Abstract
Successful language revitalization requires a diverse range of skills in areas such as community language planning, language documentation, linguistic analysis, materials development, pedagogy, project management, grant-writing, and many others. Training community members in these skills has been recognized as a key element in ethical work with vulnerable linguistic communities. While much of this training takes place in informal settings, it has also become the focus of a variety of University-based institutes and NGOs around the world. Despite these efforts, there has been very little research into the methods used in training community members in language revitalization skills, or the effectiveness thereof.
In this talk, we will discuss our on-going efforts to develop an evidence-based approach to such training. Our research focuses on three main questions: What types of training are being offered in various settings? Why have these particular skills been prioritized as the focus for training? How useful have these skills been to actual language revitalization practitioners?
We will explore these questions, present the methodologies we are employing to investigate them, and share some initial findings.

Speaker Bios
Jordan Lachler
Associate Professor, Department of Linguistics
Director, Documentation Revitalization and Generation of New Speakers (DRAGONS) Lab
Director, Canadian Indigenous Languages and Literacy Development Institute (CILLDI)
Jordan's work focuses on language documentation and training community members in the skills needed for language revitalization. He has worked with numerous Indigenous communities across North America and in other parts of the world.
Darren Flavelle
Research Fellow, Documentation Revitalization and Generation of New Speakers (DRAGONS) Lab
Community Projects Coordinator, Canadian Indigenous Languages and Literacy Development Institute (CILLDI)
Darren earned his BA at the University of Alberta and his MA in Linguistics at the University of Hawaiʻi at Mānoa. He works in language documentation and revitalization with a wide range of communities.
Colloquium with Dr. Karen A. Cerulo
Apr 13, 2023
Dreams of a Lifetime: How Who We Are Shapes How We Imagine Our Future
On April 13th, 2023, Dr. Karen A. Cerulo from the Rutgers University, presented "Dreams of a Lifetime: How Who We Are Shapes How We Imagine Our Future" as part of the Language, Communication and Culture's Winter Colloquium series.
Dr. Karen A. Cerulo argues that people's social location shapes their dreams and whether they believe they can come true. Social position ingrains itself on people's mind's eye, influencing the nature of their dreams, whether they embrace dreaming or dream at all, and whether they believe their dreams can become realities. Inequalities stemming from social disadvantages pattern people's dreams for themselves and exacerbate social inequalities, limiting the life paths they believe are open to them. The study of people's dreams can provide new avenues for understanding and combatting inequality.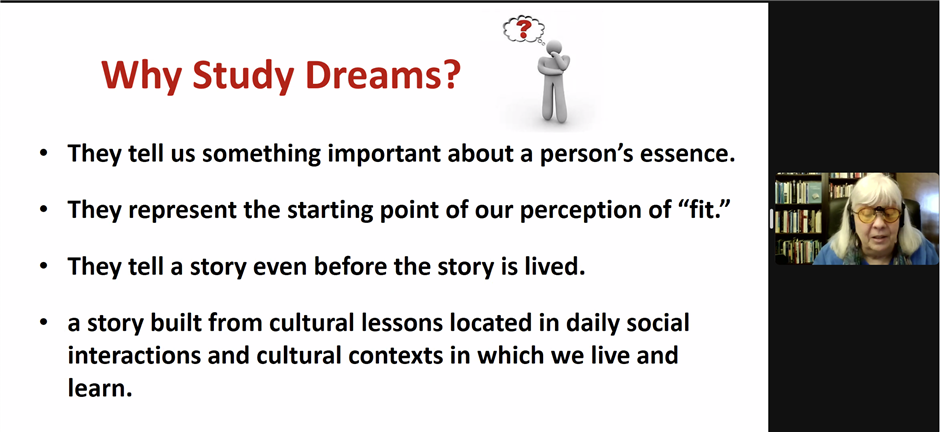 -------------
Colloquium with Dr. Vern Glaser
Jan 26, 2023
Venture Proofing: How entrepreneurs develop arguments to persuade investors of the viability of their innovation
On January 26th, 2023, Dr. Vern Glaser from the University of Alberta, presented "Venture Proofing: How entrepreneurs develop arguments to persuade investors of the viability of their innovation" in the Language, Communication and Culture's Winter Colloquium series.
Dr. Vern Glaser and collaborators study how entrepreneurs convince investors of a venture's viability through effective arguments made by entrepreneurs. Their study traces the evolution of an entrepreneur's pitch from initial seed funding to a subsequent round of funding. They propose a new practice-based theory on pitching, offering insight into how entrepreneurs resolve the challenges of connecting with various stakeholders.
Zoom talk replay (available for streaming until April 30, 2023):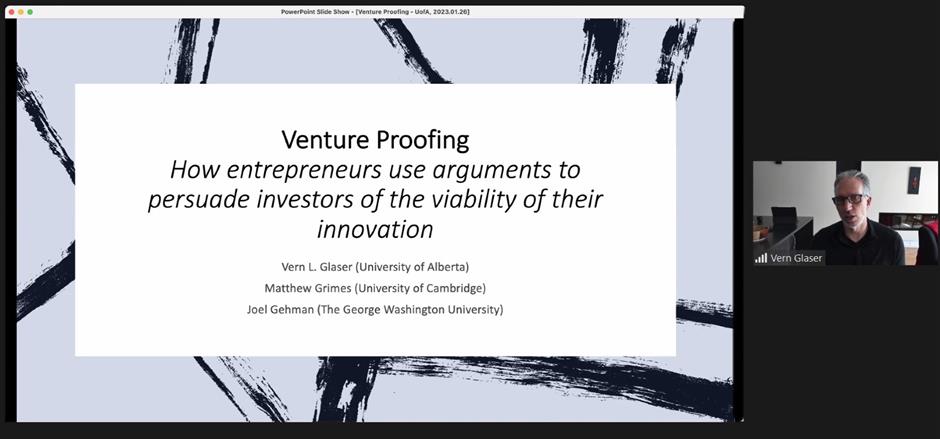 Colloquium with Dr. Gale Stam
Nov 3, 2022
Gesture — A Fundamental Component of Language, Culture, and Cognition
Abstract:
Language, culture, and cognition are intricately related. Language is both a transmitter
and a by-product of culture. Through language individuals learn concepts that facilitate their
cognitive development and are socialized and enculturated into a community. Gestures are as much a part of language as speech is. Together speech and gestures develop from a 'growth point' that has both imagistic and verbal aspects (McNeill, 1992, 2005, 2012). They are both influenced by the same factors, express the same meanings, and perform the same pragmatic functions. Collectively they provide us with an enhanced window onto speakers' cognition and culture. This talk will explain what gestures are and how they are a fundamental component of
language, culture, and cognition.
Speaker bio:
Gale Stam, Ph.D., is Professor Emerita at National Louis University. Her research interests
include language, culture, and cognition; gesture; and first and second language (L2) acquisition. She has published articles on changes in thinking for speaking, the importance of looking at gesture in L2 acquisition, gesture and lexical retrieval in an L2, and language teachers' gestures. She serves on the editorial boards of Language and Sociocultural Theory, Multimodality of Communication, Frontiers for Communication, and Language and Interaction Acquisition, LIA. She has co-edited three volumes – Gesture: Second Language Acquisition and Classroom Research (Routledge, 2008) and Integrating Gestures: The Interdisciplinary Nature of Gesture (John Benjamins, 2011), and Gesture and Multimodality in Second Language Acquisition: A Research Guide (Routledge, 2023). In addition, she is co-convener of the of AILA ReN (Research Network): Gesture, Multimodality, and SLA.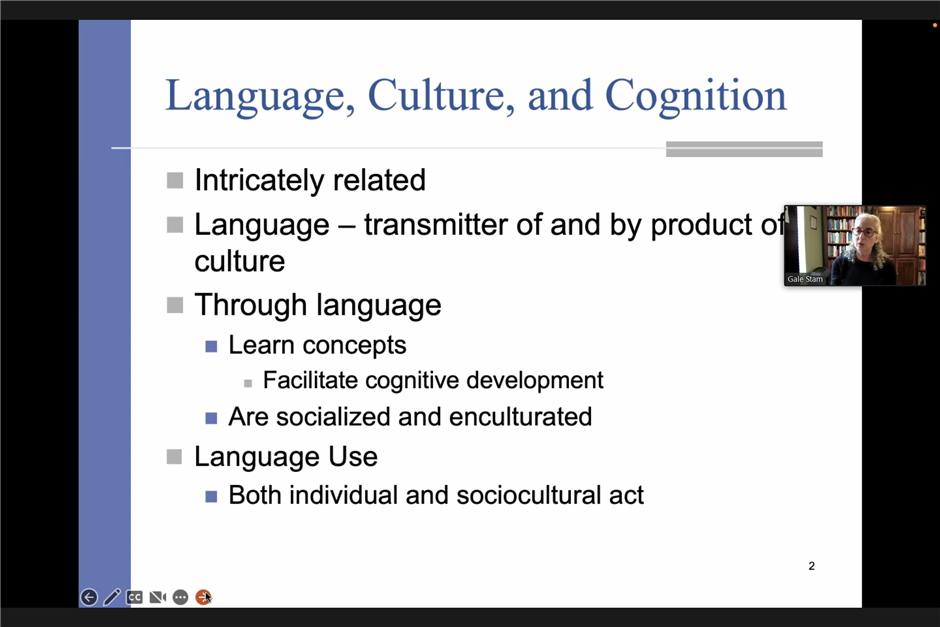 -------------
Colloquium with Dr. Nicole Holliday
Sociophonetic Variation and Human Interaction with Digital Voice Assistants
Time: 4pm March 31, 2022 (MDT)
Abstract:
As technology that relies on speech is increasingly integrated into modern American society, voice assistants are becoming a more significant part of our everyday lives. This talk will present the results of three studies that focus on social perception of voice assistants, voice quality variation among the assistants themselves, and how one assistant's "tone of voice" evaluation reinforces systematic linguistic bias. Results of the first study demonstrate how listeners engage in racialized judgments of digital voice assistants and that these judgments interact with perceptions of the personality of such assistants, providing evidence that listeners personify these voices. Results of the second study shed light on the voice quality features that may trigger judgments of speaker race and personal characteristics, even when the speaker is non-human. Finally, results of the third study show the ways in which speech recognition technology can reinforce and perpetuate bias against already marginalized groups of speakers. A more comprehensive understanding of how sociolinguistic variation interacts with the design of such assistants may help us to understand how listeners process variation and make judgments of voices, both digital and human. Additionally, a thorough analysis of how computational systems police speaker behavior can help us address systematic inequality as the linguistic line between humans and computers becomes increasingly porous.
Speakers Bio:
Nicole Holliday is an assistant professor of linguistics at the University of Pennsylvania. She received her Ph.D. in linguistics from New York University in 2016, where she wrote a dissertation entitled "Intonational Variation, Linguistic Style and the Black/Biracial Experience". Her research focuses on what it means to sound black, both phonetically and socially, and from the perspectives of speakers and listeners, both human and computational. Her work has appeared in scholarly venues such as Journal of Sociolinguistics, Laboratory Phonology, and American Speech. She has made media appearances in outlets such as the New York Times, the Philadelphia Inquirer, and the Washington Post. Alongside journalist Ben Zimmer, she is also the co-host of the Slate language podcast Spectacular Vernacular.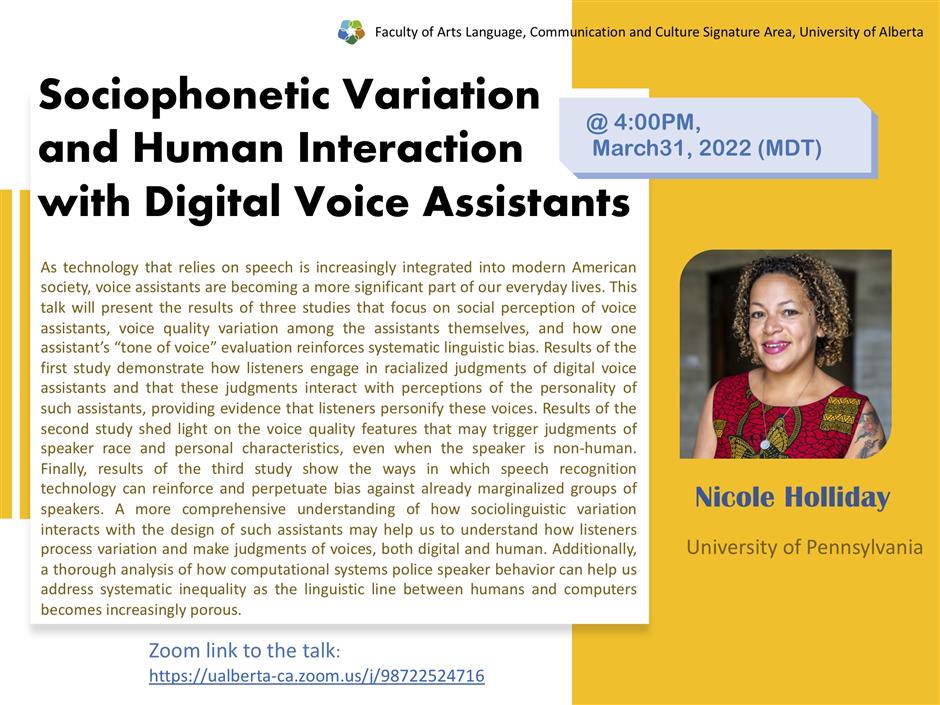 -------------
Colloquium with Dr. Yumei Gan
Oct 27, 2021
-------------
Colloquium with Dr. Elisabetta Adami
Mar 25, 2021
On March 25th 2021 Dr. Elisabetta Adami from the University of Leeds, UK presented "Semiotic Practices of sociocultural inclusion/exclusion - the case of Leeds Kirkgate Market" as part of the Language, Communication and Culture's Winter Colloquium series.
Dr. Adami began the discussion with background on the Leeds Kirkgate Market as well as the current renovations that the market is going through, and how those changes are altering the semiotics that stall owners use when advertising their stall and products. Dr. Adami specifically looked at the signage used by vendors at the Leeds Kirkgate Market including disembodied modes like writing, font, image, colour, objects, and layout, and how those aesthetics created a specific environment for those vendors. Traditionally in the Market there is very little institutional or prestige design, with most of the visual landscaped based on the vernacular of trademakers rather than corporate image designers, making it an interesting subject to look through a semiotic multimodal lens with.
Dr. Adami used observations from her time at the Market as well as data recordings and interviews to analyze the change in Market semiotics before and during the current renovations happening. Her pre-renovation data revealed a number of unregulated vernacular semiotics, and an impressively wide range of resources as well agency used in the stalls to advertise their products. This unregulated agency in sign-making led to a lot of non-cohesive, mashed-up 'from below' composite aesthetics which are in sharp contrast to corporate aesthetics and the urban aesthetics which are heavily regulated in areas around the Market. Dr. Adami discussed a mash-up example of a butcher at the Market who has a British flag on his market stall to symbolize a traditional butcher, while at the same time having a Lucky Cat to signal that he has pork belly for Chinese customers, and adding in fake grape decorations when the fishmongers of the Market were moved near his stall since the customers of fishmongers are generally more fancy and high paying.
Dr. Adami then went into the changes of semiotic practice as the market goes through renovations as well as brand regulation. She discussed how the Market's new logo is clean, minimalistic, and sophisticated to create a hegemonic brand for the entire Market to fall under, creating a space that is semiotically less distinct but friendlier for tourists and foodies. An interesting result of these regulations also includes heavy self-regulation from shopkeepers as they try to orient their business towards new clientele being brought in from the renovations, including younger and higher budget customers. Although there are some positives such as an environment that is better suited for those that do not visit the Market often or are new to the city, there are very distinct losses including a low budget shopping spot for the elderly or those with lower incomes, as well as the gentrification of the area and Market stall rental prices could push out the regular customers of the Kirkgate Market as well as entrepreneurs, including many new migrants.
Dr. Adami finished her presentation by discussing her analysis of the semiotic regimes governing a place reveals including the social dynamics projected by it, governing it, hindered/enabled in it, as well as who gains and who loses in terms of freedom of shaping it, as well as the conception of public space and how it can be designed for exclusive use or shaped by its occupiers. These formal features and semiotics used can lead to social exclusion practices for corporate benefit, rather than social and communal use.
Zoom talk replay (updated):
https://drive.google.com/file/d/1RKRokjCBGhrmu0pLbMBMRXP8gxBCWL_b/view?usp=sharing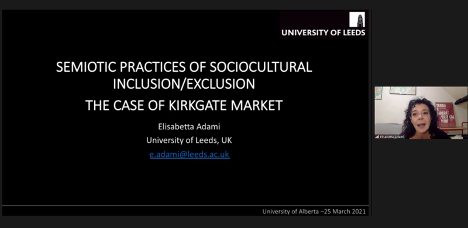 -------------
Colloquium with Dr. Shana Poplack
Mar 11, 2021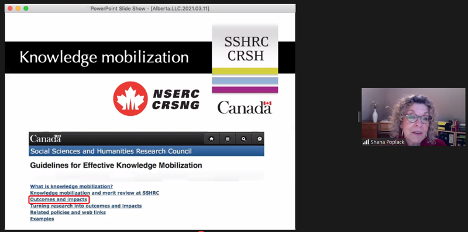 On March 11th 2021, Dr. Shana Poplack and Nathalie Dion, the coordinator of the Sociolinguistic Lab at the University of Ottawa, presented "Language mixing causes a stir: Confronting science and public opinion" as part of the LCC Winter Colloquium over Zoom.
Dr. Poplack opened the talk with a discussion of her lab's years long research into the possibility of a bilingual problem in Canada; that is, despite Canada's bilingual status, the way languages are distributed is not equal including speakers, situations of use, and prestige. She then described how a trajectory of Quebecois bilingual behavior was studied with data spanning over a century and a half to study the evolution and persistence of language mixing in spontaneous speech, including diffusion over and across time. The results show that single or lone English words within the Quebecois lexicon were incredibly rare and already well-established. On the other hand, nonce English words are not getting more frequent and do not spread that much at all when used in French - very rarely do they diffuse across a community.
Dr. Poplack then dived into how the results of this incredible large study were translated into a media release. The condensed 500-word media release was later picked up and spread by a multitude of news outlets with a prolific response by readers. The content analysis of the discussion showed very positive and negative attitudes towards the research. Dr. Poplack described how public affect was divided right down the middle with an entire cohort believing the findings were a waste of time or rejecting them because it did not correspond to their own personal views. Meanwhile, others embraced the research because they were already thinking or their personal feelings on the subject.
Finally, Dr. Poplack concluded that scientific evidence does not carry the same weight on the street than it does in academia due to the current fake news climate and that it is difficult to translate findings into an understandable form for the general public, especially with results that may go against the common wisdom that is very entrenched in certain cultures or societies. Borrowed words are emblematic of a specific socio-cultural stance and generally, and Dr. Poplack stressed that her research was not diminishing people's experiences, but rather working on promoting and enabling languages.
Zoom talk replay (updated):
https://drive.google.com/file/d/1JjUMZxXyx1mdGCt7AslcH_XdIhQiuWc-/view?usp=sharing
-------------
Colloquium with Dr. Shannon Ward
Jan 28, 2021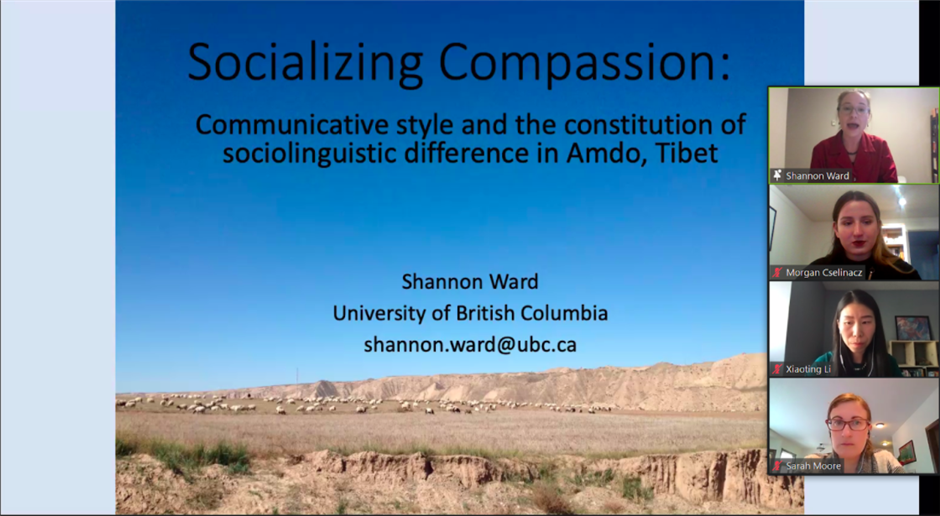 On January 28th, Dr. Shannon Ward joined the Language, Communication and Culture Signature Research Area for their Winter Colloquium to discuss her research, "Socializing Compassion: Communicative style and the constitution of sociolinguistic difference in Amdo,Tibet".
Her research draws from 15 months of ethnographic data collection in an Amdo Tibetan community, focusing on young language socialization with the goal of analyzing communicative styles, which is used to uncover the links of emotional displays and cultural and moral values. Dr. Ward discussed how children of Amdo, Tibet are socialized to learn compassion through a specific communication style and to reflect on cultural norms and interpersonal reliance, which require displays of empathy. In contrast, there have been a lot of migrants coming into this area of Tibet, bringing with them other languages such as Mandarin, and cultural norms which are being passed down to Amdo Tibetan children as their parents go through economic and educational shifts.
With these socio cultural changes have come concerns over teaching children their mother language. Dr. Ward discussed two main social components tied to Amdo communication: predicting the force of one's actions on the social and natural word, and commenting on others' displays of distress or hardship. Tibetans discuss compassion as a psychological and physical state which can help with negative imbalances and stresses - in this way, socializing persons to see compassion as a psychological state can help with interactions and values.
Dr. Ward then went into detail about an interaction between Amdo Tibetan children learning about compassion and empathy as they played with ants, and their grandmother watched from nearby. The children displayed their compassion by anthropomorphizing the ants and using exclamations to grab each other's attention and stop intentions of possibly harming the ants. The grandmother monitored the children by providing hypothetical 'threats' about how the ants might retaliate if they were harmed. Both child and grandmother expressed negative assessments towards one of the children that killed one of the ants. This was done to ensure that no additional harm would come to them.
Overall, these informal play situations help Amdo Tibetan children understand unintentional harm that they can bring to the world around them. They help children learn morality that is not as direct or as negative as punishment may be, and it avoids harming the relationship between parent and child.
In the Amdo Tibetan community, there are concerns about language shifts as Mandarin becomes more widely used and taught in schools. There are also concerns about Bhuddist morality - which is closely related to Amdo Tibetan mother language traditions and culture - not being passed on. There is a sense of Tibetan children losing the essence of belonging to their community, and further anxieties about children losing their culture overall. These lead to broader questions about Tibetan and other minoritized children in China - how will children make sense of their social states and social relationships when they enter school or work, where there are different social norms?